Recently, I made a little journal to try out what I thought would be the "dawdle" of bookbinding (in danish: "bogbinderi") and have started filling it in.

My first realisation was that Bookbinding is a lot harder than I thought. Mainly the binding of the pages together and then attaching the covers and the elastic were very fiddly and slightly frustrating. I managed to stab myself with the big-fuck-off needle a few times which made me swear a bit.


I'm not one to write "Dear Diary, today I....." type of journal entries, so it's more a cut paste scribble and dribble affair. A flow of creativity if you will.
So far I have been just chucking stuff in there whenever I feel like it and wherever I feel like it. The other night I even handed it over to my workmates and let them have a scrible in it also, which was fun to look at the next day whilst sober.

This is the front when it's closed with the elastic holding it all in. The cover actually has two layers of material on it. The front and the back have glued on covers and then I stitched another layer over those that wraps around the spine also, mainly because the actual stitches in the binding were freaking ugly and I wanted to cover them up.


Even though it is quite a small book, I wanted to make sure there was plenty of space in it for drawings and sticking random stuff in. Each page actully folds out further, which makes the book quite thick. Like a little brick really: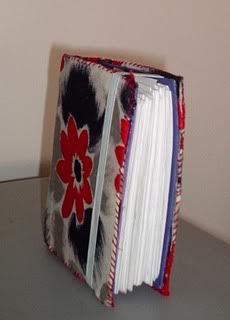 Because of the double layer of material on the cover, it now has a gap down the side for awesome pen storage goodness: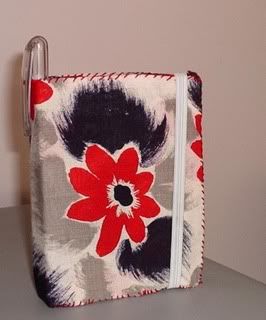 I know the stitching is kind of crappy, but I kind of like the haphazard look. It gives it character. Well, thats my story and I'm sticking to it. It has nothing to do with the fact that I am impatient and wanted it finished quickly, I swear.

Here's some of the stuff I have in it so far: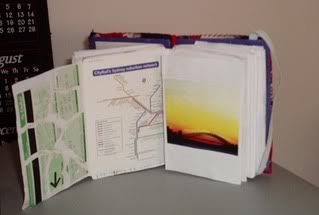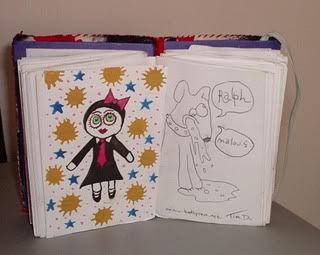 (Barfing Dog picture courtesy of my mate
Tim
from work)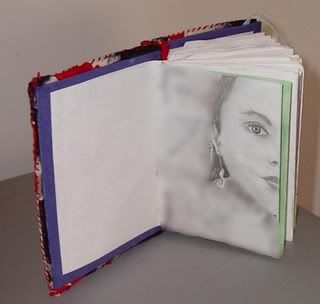 (Words blured cause sometimes what goes in a girls journal is between a girl and her journal!!)
Here is the place
where I first got the idea it would be something I wanted to try.
Lee