Lately I have been thinking a lot about clothing reconstruction. You know where you take some old piece that you may not wear anymore, or something you picked up at a second hand clothing store for cheap, and turn it into something you might actually be seen in public in.
A few months ago I attemped my first "re-con" - a skirt made out of two old t-shirts that I bought from the thrift store up the road specifically for the purpose of hacking into pieces. The resulting little number was made without a pattern and was an awesome way to spend a rainy Danish winter afternoon.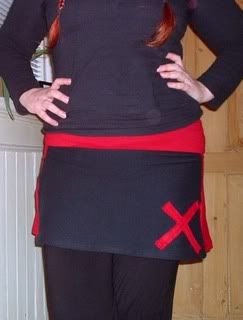 I really liked it and have been meaning to get back to the thrift store to raid their t-shirt stash again to try something new.
In the meantime, spring has arrived and I am finding that I am heading out without my big woolen coat on a fair bit now. It's just too warm now to rug up that much. The only problem with not having the big coat on is that a lot of my shirts are just a tad too short and I tend to have the skin at my lower back or on my tummy getting exposed every now and then. This would be fine if I were back in Australia, where even the coolest the spring-time weather is often equivalent to a warm scandinavian summers day. Here though, it means I can get quite a chill.
To combat this problem I had a bit of a think and decided to create a "tummy warmer". Something that I can wear under my shirts to give them a bit of extra length and cover up my middle a bit. So yesterday I got to work stitching together all the little left over pieces from the mutilated t-shirts to create my first attempt.
There were a few hiccoughs. For instance, I ended up not having enough scraps to make it wide enough, which I rectified by attacking a thin black shrug type jacket that I have never worn, and using it to create a wide waistband at the top. Also the fact that I am still quite a noob when it comes to clothes making meant that made the whole piece into a simple tube and therefore it had no shape. I ended up cutting off the first seam I made in the side and re-stitching it into A-line shape to make it a bit more figure hugging, thereby actually keeping it in place and not having it fall down all the time.
The final product looks a bit haphazard, but I kind of like that look. I also like the creepy "dark circus" type feel the black and red mismatched stripes give it. Almost like
Emily The Strange
, but, you know, not quite as cool.... or as well done....or as talented.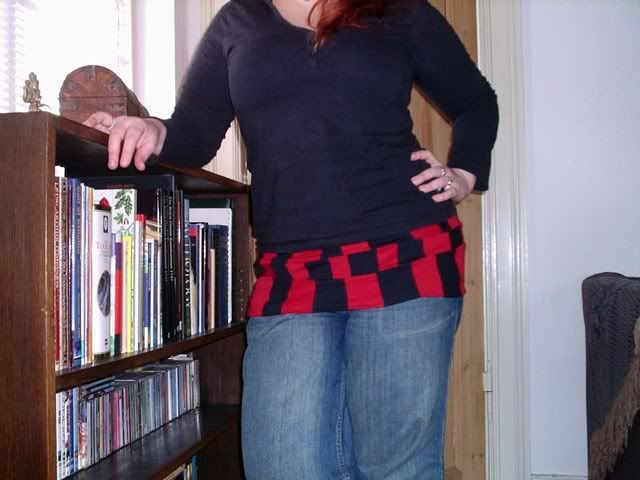 But anyway, it does the trick and I think I'm definately going to make a few more not only to practise my skills, but to give myself something fun to wear.